Computer Graphics for the "Pen and Ink" Artist and Cartoonist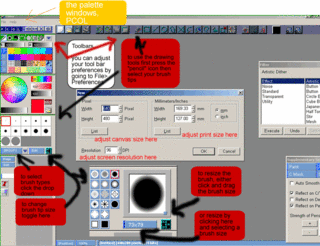 This art blog post is the first in a series of Computer Graphics tutorials for Pen and Ink Artists wishing to prepare their art for Computer Manipulation and Production .
While there are many graphics packages available for purchase, it is my hope to offer freeware or shareware software alternatives to the user.
I have found the freeware Windows graphics and paint package called Pixia by Isao Maruoka.
-download the software at http://park18.wakwak.com/~pixia/download.htm
-join the pixia communities and learn
–http://pixiaart.proboards32.com/index.cgi?action=register
– yahoo pixia group-
++++++++++++
The first step to digitzing your pen and ink art is "importing" your art into the computer.
Import as it is used here, is a universal software term for "bringing in" information. For the pen and ink artist, importing means "scanning" your original
Usually in Computer Graphics software, you will find the import command under the File menu in the upper left corner of the software's "window" or screen.
Assuming you have a scanner correctly connected to your PC, the file>import concept is easy to remember.
Animal Hackerz holiday gifts are here!
[Technorati tags:
Comics
,
Animal Hackerz
,
Animal Hackers
,
Dogs
,
Cartoonist
,
Artist
,
Pen and Ink
,
Pixia
,
Computer Graphics Tutorials
]More blogs about
animal hackerz
.
goat ping
Enter your email address below to subscribe to
animalhackerz
!